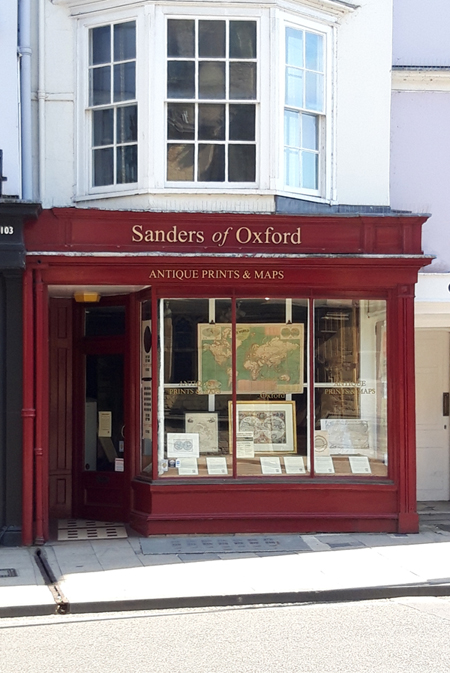 Sanders of Oxford continues a long tradition of selling antique prints and maps from our historic premises on Oxford's High Street. Our store, located in the 16th century Salutation Inn, has been host to printsellers and booksellers since the 1830s. Sanders, the most recent of these, was founded in 1927 and in its most recent incarnation seeks to preserve the old world charm of the store while remaining accessible and welcoming to collectors and enthusiasts from all walks of life. Our friendly and knowledgeable staff are always on hand to assist. No question is too mundane or too bizarre, so please ask.
As one of the longest running, and last remaining, general antique print sellers left in the world the shop contains a vast array of stock. Operating somewhere between a shop and a gallery we aim to provide a less intimidating, and more inviting, backdrop to browse our varied and extensive collection of prints and maps than our history might suggest.
We sell antique prints and maps from the 15th – 20th century, covering virtually every subject and location you can think of. These sit alongside a collection of works by UK based contemporary printmakers, priced to suit every pocket. All of the prints and maps we sell are guaranteed original, with no reproductions, copies, or digital prints. 
Environmental Ethics
Environmentally, buying second-hand and antique goods is one of the best choices you can make as a conscientious consumer.          Alongside this, Sanders makes every reasonable attempt to reduce the carbon footprint of our business, and we are always looking    for ways to improve.
We have switched the majority of our bags, packaging, and wrapping to biodegradable or recyclable FSC sourced paper and cardboard. Our calico tote bags are made with organic fair-trade cotton.
All mounts and framing card are acid-free, archival, and 100% recyclable.
Although some of our mounted items are wrapped in plastic cellophane, we are phasing this out in favour of biodegradable corn-starch bags and wrapping.
At present, some plastics are inevitable for conservation reasons. Archival sleeves are reused in store. Plastic carrier bags are still available on request for dealing with inclement weather, but we have drastically reduced the number we use in store. Any bubble-wrap or other plastic packaging you receive has been reused from earlier deliveries to our store.
To offset our carbon footprint from deliveries and necessary work-related travel, we will be donating a percentage of our profits each year to charity. Charities include the Woodland Trust and Wild Oxfordshire.